Main Activities
Miyagi Prefecture Kikizake Championship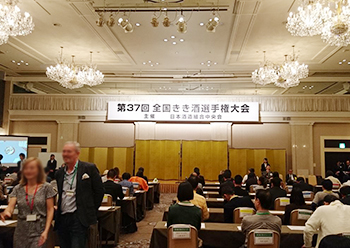 Winners of the prefectural kikizake (saké appraisal) tournament will advance to the National Kikizake Championship. Over 150 saké enthusiasts compete each year to be one of the prefecture's two representatives. Recently, participants' ability to appraise saké has improved significantly.
PR Events in Tokyo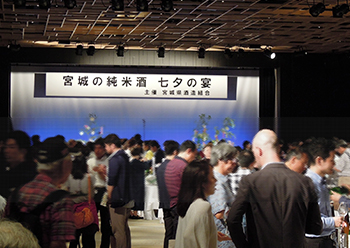 We hold a PR event in Tokyo once a year so that Japanese saké fans in the Tokyo area can experience Miyagi Sake. In recent years, we have been calling it "Tanabata Banquet." We can enjoy the Sendai Tanabata Festival while enjoying Miyagi's junmai saké and delicious food.
Miyagi Saké Matchmaking Event in SENDAI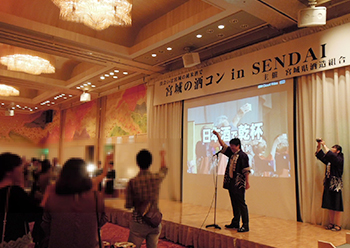 This event is a new type of party featuring Miyagi Sake, where men and women have the opportunity to meet and socialize. The event is held for singles only. It has been held on October 1st every year since 2015. In each event a total of 300 men and women participate, resulting in about 30 new couples.
A "Kanpai" Toast Across the Nation with Sake
"All Japan Saké Kanpai!" is an event hosted by the Japan Saké and Shochu Makers Association on October 1st. You can participate in a nationwide toast with saké all over the country, whether that is at your home, restaurants, or related events We are aiming for the participation of 101,000 people in Japan and overseas. (Cooperation: prefectural saké brewers' associations, restaurants, retail shops, etc.)
October 1st is considered "Saké Day," as it is the first day of the traditional brewing season. Let's all make a toast with saké on this day!
Miyagi Junmai Club "Minori no Utage"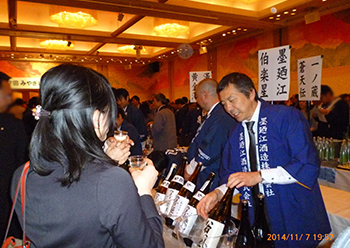 宮城県産酒の愛好者と蔵元が交流を図るイベントです。1997年から仙台市において開催しており、近年は600名ほどの参加者があります。蔵元や蔵人が消費者の方と直接語り合う機会であり、消費者の生の声が酒づくりの励みになります。
Miyagi Saké Appraisal Competition/
Supporters' Selection
This is a saké appraisal competition created by breweries in Miyagi Prefecture. The Miyagi Saké Appraisal Competition will be evaluated by professional judges, while the Supporters' Selection will be judged by the top performers of the Miyagi Prefecture Kikizake Championship.
*All saké to be judged is commercially available junmai sake. The top prize winners will be awarded at the "Miyagi Marugoto Festival" (sponsored by Miyagi Prefecture) in front of the gathered crowd.
*Through this brewing competition, we aim to improve brewing techniques, leading to higher quality sake.
Freshly Brewed! New Miyagi Junmai Saké Release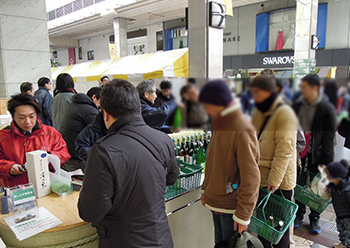 At this event new junmai saké made within the past year is revealed. Many people look forward to this annual event which has continued for more than 30 years since 1986.
Miyagi Recommended Saké Certification Examination Committee
Four times a year, saké recommended by Miyagi breweries which are commercially available are evaluated for taste and aroma characteristics. The evaluation results are published on this website, which allows consumers to conveniently find prefecture-produced sake. Information about the saké is updated every 3 months and published on the "Miyagi Saké Search Navigator" section of this website, with links to commercially available sake.
Exclusive Saké Tasting for Supporters' Club Members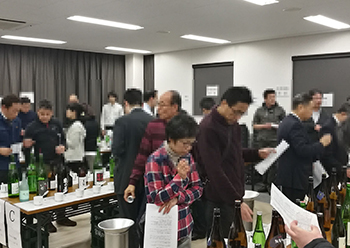 This saké tasting event is held by the Miyagi Recommended Saké Appraisal Committee for members of the Miyagi Saké Supporters Club and saké supporting organizations. You'll have a chance to experience the actual flavors and aromas of saké instead of just reading about them on this website. Approximately 100 saké are exhibited at each event.
Guidance for Breweries
Each summer and winter we request for an expert from the Miyagi Prefectural Government Industrial Technology Institute to visit Miyagi breweries directly in order to provide technical guidance. In the summer, advice mainly focuses on storage and shipping management, while in the winter, technical guidance about saké making is provided. The latest knowledge from the institute is provided to the breweries to help improve quality.
Saké Brewing Workshop
Every year, at the beginning of the brewing season, we hold a workshop to study that year's rice quality and various points about saké making. Participants also learn about safety measures for dangerous areas at the brewery.
Analysis Skills Seminar
We hold seminars regarding analysis skills, which are essential for saké production, for saké brewers with little experience. The participants will learn about chemical analysis which is the basis of managing the fermentation process.
Basic Knowledge Acquisition Seminar
We hold seminars mainly for inexperienced saké brewing staff, but also for regular saké brewing employees, in order to gain basic knowledge needed to brew sake, such as brewing techniques. Participants learn the basics of brewing, ways to improve work efficiency, safe work methods, etc.
Miyagi Toji Association
This is a voluntary association organized by employees working in Miyagi saké breweries. It is a group of experienced saké makers who are involved in the brewing industry, composed of members ranging from locally hired young saké makers to veteran master brewers. The group is engaged in various activities such as workshops for studying the latest technology and visiting leading breweries.
Miyagi Jowa ("Brewing Harmony") Association
Young managers inside the Miyagi Saké Brewers Association, who will lead the next generation, gather to conduct activities such as increasing demand for saké produced in Miyagi Prefecture and visiting leading breweries for technical study.