Miyagi Brewery List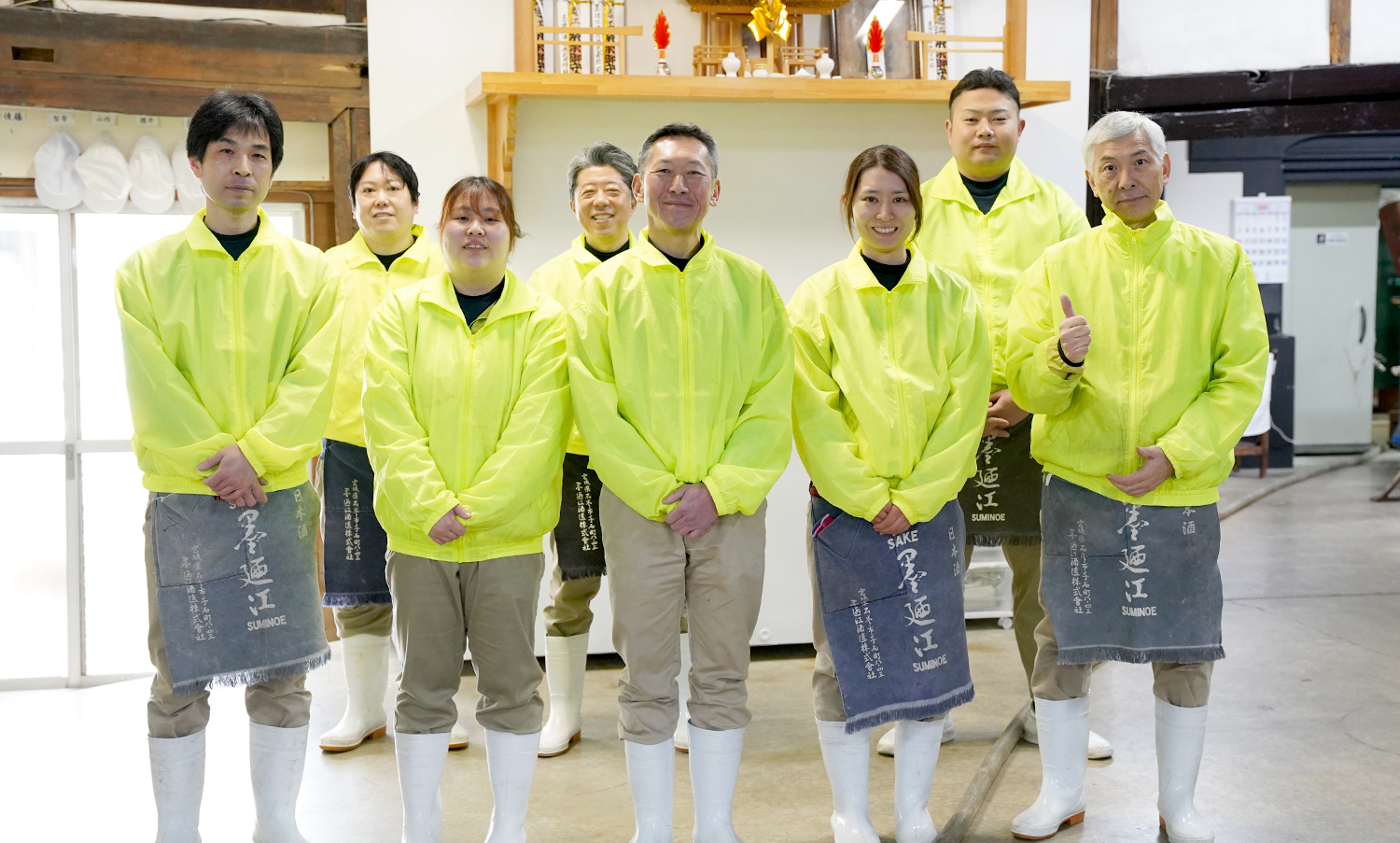 [ Sengokucho, Ishinomaki City ]
Suminoe Shuzo
Suminoe Shuzo
Signature Brands
Suminoe/ Tanikaze /Benkeimisaki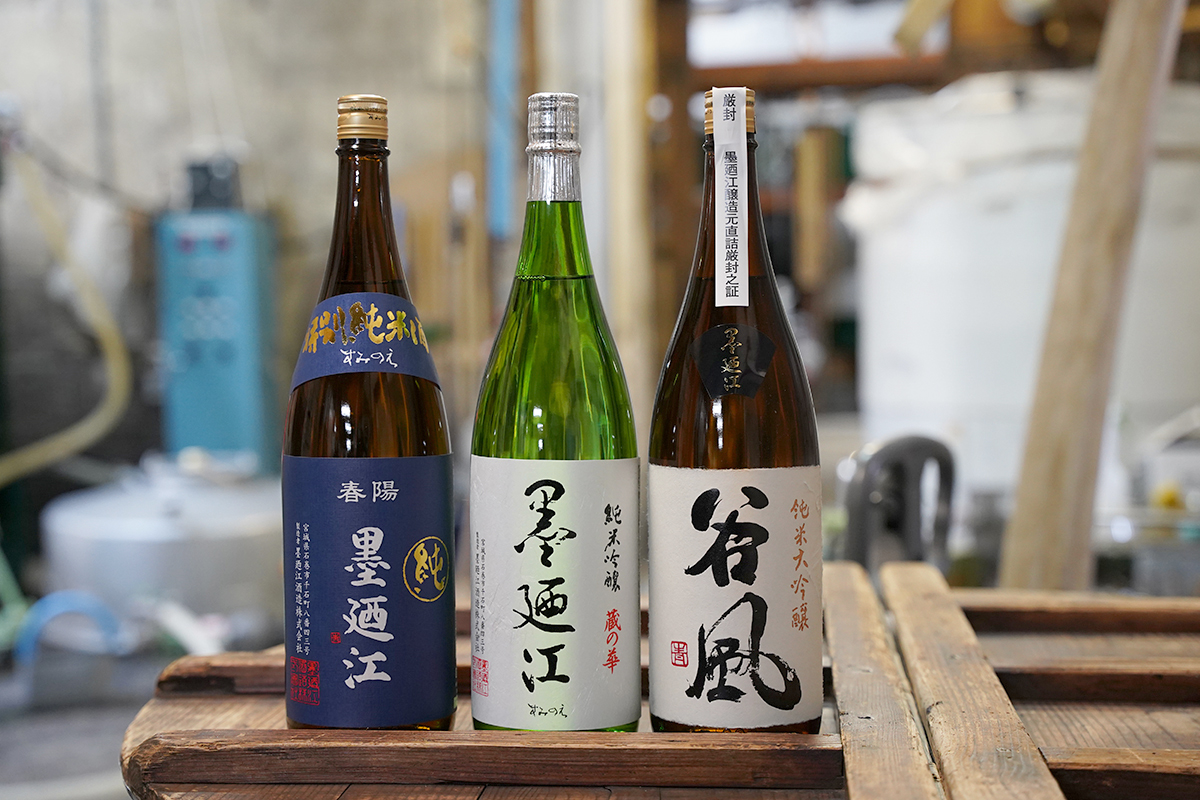 Aiming for a Clean and Sharp Taste
Creating an Elegant Saké
During the Edo period (1603-1868) Ishinomaki City, Miyagi Prefecture, flourished as a port for rice shipments of the Sendai Domain. Suminoe is named after the deity of navigation and sea voyages enshrined at Sumiyoshi Taisha Shrine in Osaka.
The theme of the saké brewing here is to create a "clean, soft and elegant flavored saké," states Yasunori Sawaguchi, the 6th generation brewery president.
It was in 1989 that President Sawaguchi returned to Ishinomaki to take over his family business. While attending saké tasting events in Tokyo and Osaka, he steadily developed business partners. After becoming a master brewer himself, through repeated trial and error, he narrowed down his product line to only include saké made of "Miyagi yeast" and established a style of drawing the individual taste of the variety of saké rice being used. More than 90% of the brewery's rice is saké rice, which is characterized by abundant use of the famous saké rice varieties Yamada Nishiki from Hyogo, Kuranohana from Miyagi, and Gohyakumangoku from Niigata.

Make Continuous Efforts to Improve Quality
Give Back to Those Who Support You
After the Great East Japan Earthquake, a tsunami surged up the Kitakami River and flooded the brewery while saké was being made. Equipment such as kettles and machines such as pumps and compressors were completely destroyed. However, immediately after the disaster, with the cooperation of many supporters, saké brewing was resumed in October the same year as the disaster.
"The thing that I appreciate the most, even when it is done as a form of support during the revitalization efforts, was that people drank Suminoe saké and came to know our brewery and brand. It is thanks to the people from all over Japan that we are able to continue making this saké. In order for you to enjoy our saké even more, I want to further improve the quality of our saké. Our goal is to more deeply explore the theme "Clean, soft and elegant saké," then go and make it."
Products


Recommended Products
Suminoe Kuranohana Junmai Ginjo

A quality junmai ginjo saké with a sharp taste. Proudly brewed with Kura no Hana saké rice and a special yeast, both produced in Miyagi Prefecture.

Alcohol content:16.5% Alc./vol.
Rice-polishing ratio:55%
Rice type:Kuranohana

Suminoe "Blue Label" Tokubetsu Junmai

A junmai saké brewed from Gohyakumangoku saké rice. The mild aroma and the umami taste of the rice are well-balanced.

Alcohol content:15.5% Alc./vol.
Rice-polishing ratio:60%
Rice type:Gohyakumangoku
Information


Brewery Information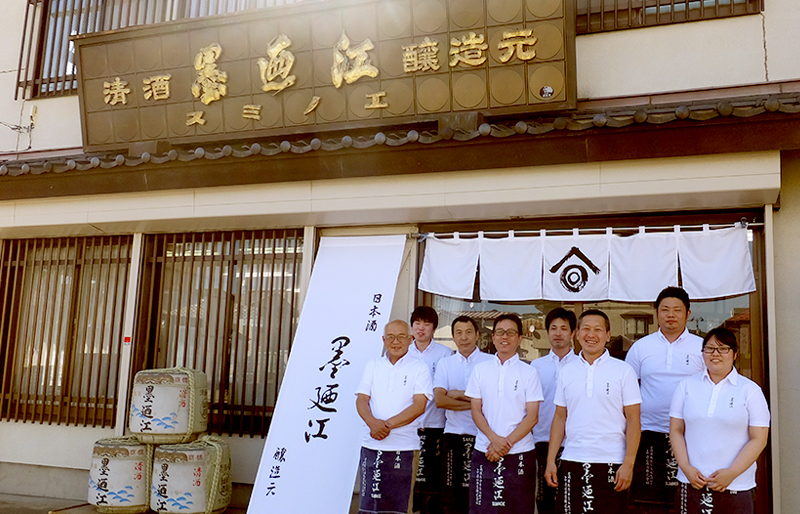 Suminoe Shuzo
8-43 Sengokucho, Ishinomaki, Miyagi, Japan 986-0871
Inquiry:
Tel : 0225-96-6288 
The brewery was founded in 1845 by the second generation of the Sawaguchi family, Anji, who operated a wholesaling seafood and grain business in Ishinomaki.