Miyagi Brewery List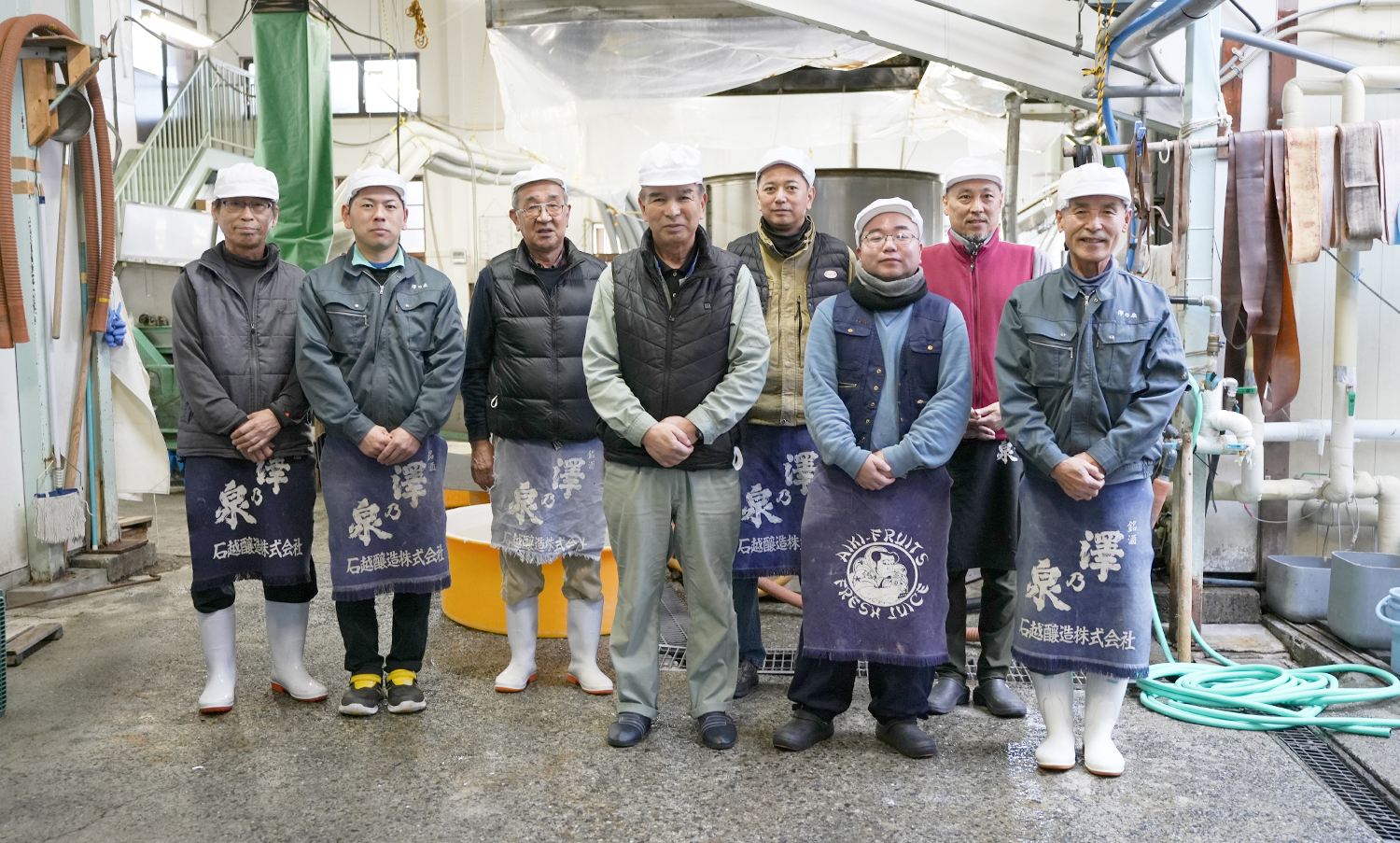 [ Ishikoshimachi, Tome City ]
Ishikoshi Jozo
Ishikoshi Jozo
Signature Brands
Sawanoizumi
Rural Scenery of Tome
Loved By Locals
The Only Brewery Still Brewing
Tome City, one of the prefecture's leading rice-producing areas, is located in the northeastern part of Miyagi Prefecture. Around the time the harvest of golden rice begins, migratory birds such as swans and Greater White-fronted Geese can be seen flying to Izunuma and Uchinuma. The two freshwater lakes form an important wetlands area which has received designation through the Ramsar Convention. The area is rich in nature with beautiful countryside scenery.
Tome City's only saké brewery, Ishikoshi, brews the famous saké "Sawanoizumi," which can be said to represent the scenery of the town's nickname "Mizu no Sato" ("Water Village"). Our brewery is a medium-sized brewery that currently produces 2,000 koku, and 80% of our products are consumed within the prefecture.
"While we have been making saké with Nanbu Toji since a long time ago, more recently we been active in advancing our mechanical production process for about 10 years. We strive to brew saké that makes the best use of mechanical efficiency and traditional handmade quality," says President Hiroshi Sato. After gaining experience under the previous toji Takao Sugawara, who received the Minister of Health, Labor and Welfare award as a "Modern Master Craftsman," Sato became master brewer in 2007 after obtaining the Nanbu Toji qualification.
For Delicious Saké and the Community.
Researching Saké Rice and Working with Local Farmers.
The important thing about saké brewing is "First and foremost, connection with the community," Sato declares. He adds, "I would like to make saké that meets a wide range of consumer preferences, with a focus on saké that is loved by local people."
Saké from Ishikoshi Jozo is made of local, environmentally friendly rice. About 15 years ago, the brewery established a "Saké Rice Research Association" with a local contract farmer, and has been making advances in the production of "Yamada Nishiki," "Kuranohana" and "Kame no O" saké rice varieties. In 2013 the brewery started selling a junmai daiginjo saké made from 100% Tsuyahime rice from Miyagi. Although it is a table rice, a newly developed brewing process was used to produce a great tasting saké.
Currently the brewery's total production line exceeds 50 items. Although the proportion of junmai saké is increasing year by year, there are still many fans of the brewery's "honjozo" and "josen" (middle grade) saké, which have been loved locally for a long time.
Products


Recommended Products
junmai daiginjo KIRAMEKINOSHIZUKU

Junmai daiginjo was commercialized with the idea that Yamada Nishiki, which is said to be the best for saké brewing, was produced in Miyagi Prefecture. The northern limit of where Yamada Nishiki could be grown is said to be Fukushima Prefecture, but we made a request to an agricultural producer in Kurihara City, Miyagi Prefecture to try planting the rice type locally.

This junmai daiginjo that has won numerous awards thanks to the combination of excellent Yamada Nishiki, which has been cultivated and matured in the clear-flowing waters of Hasama River originating from Mt. Kurikoma, the superior milling rate up to 40% and the skillful work of our Nanbu toji master brewer.

Alcohol content:15.8% Alc./vol.
Rice-polishing ratio:45%
Rice type:Yamada Nishiki from Miyagi Prefecture

junmai daiginjo SAWANOIZUMI

This junmai daiginjo is brewed with locally produced "Kura no Hana" saké rice developed in Miyagi Prefecture. We have a direct contract with a farmer who grows "Kura no Hana" as their majority crop and who has gained the trust of our brewing staff. Therefore we can secure a stable supply of this highly desired rice and maintain a quality product. This saké, which has been fermented slowly at low temperatures, has a highly refined ginjo aroma and is characterized by its elegant flavor.

Alcohol content:15.8% Alc./vol.
Rice-polishing ratio:45%
Rice type:Kura no Hana from Miyagi Prefecture

tokubatsu junmaishu SAWANOIZUMI

This is Sawanoizumi brewery's standard saké which has long been loved by local consumers. The saké was released about 40 years ago, and shipments have increased year after year since the "Proclamation of Miyagi as a Junmai Saké Prefecture" by the Miyagi Prefecture Brewers' Association in 1986. This saké is popularly used at drinking parties, with meals at restaurants, and for gift-giving. Enjoy this rich junmai daiginjo with its notable balance of fullness and aroma.

Alcohol content:15.2% Alc./vol.
Rice-polishing ratio:55%
Rice type:Kura no Hana from Miyagi Prefecture
Information


Brewery Information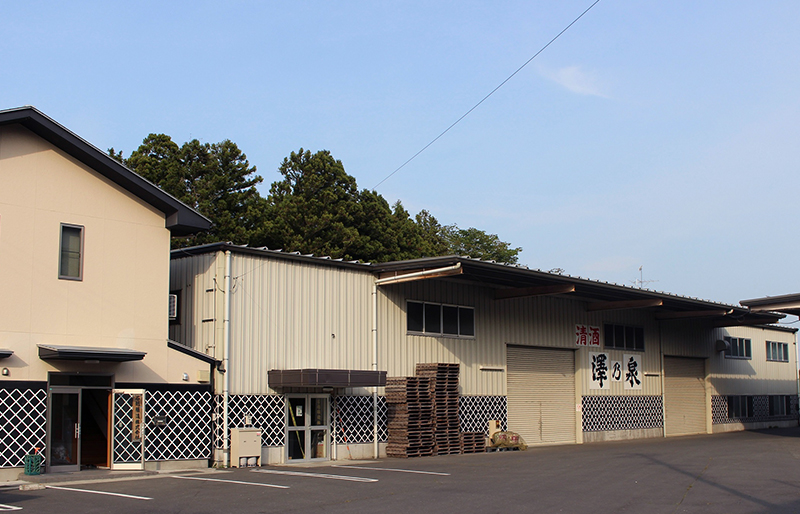 Ishikoshi Jozo
108-1 Nakazawa, Ishikoshimachi Kitago,Tome, Miyagi, Japan 989-4701
Inquiry:
Tel : 0228-34-2005
In 1920, four local supporters established a joint-stock company, acquired a manufacturing license, and established the brewery. It was reorganized into a corporation in 1927. Initially, the brewery started selling under the brand name "Sawanotomo" (澤乃友). Then in 1960, the "sawa" (澤) of "Nakazawa (sawa)" (中沢(澤)), the name of a spring which was located at the brewery, and the character for spring (泉), were used to change the trademark name to "Sawanoizumi" (澤乃泉).
Brewery Tour

Unavailable
Brewery Event
Information
Open Brewery (early March), Sawanoizumi Evening (October 1 = Saké Day)