Miyagi Brewery List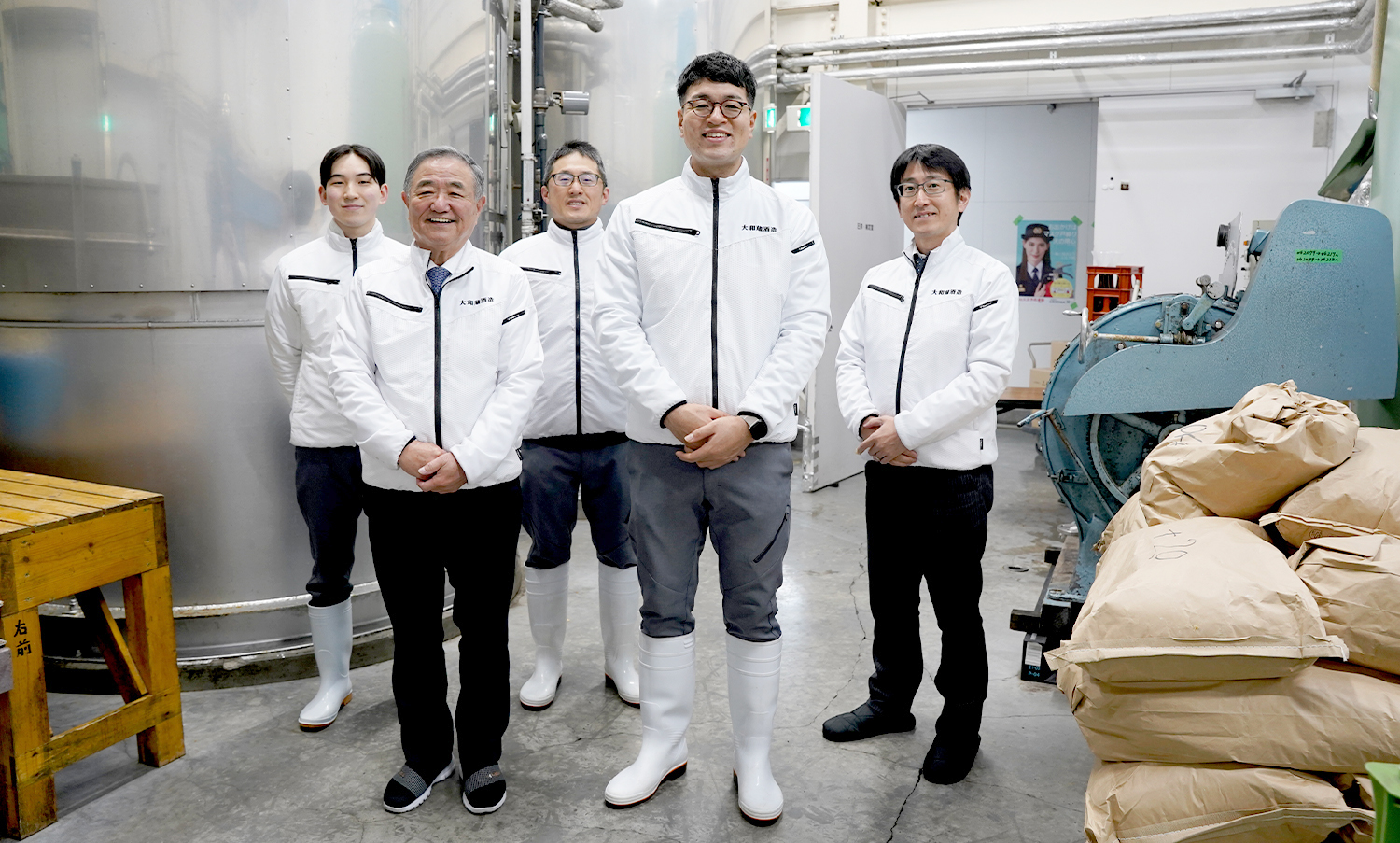 [ Taiwa Town, Kurokawa District ]
Taiwagura Saké Brewery Co.,Ltd.
Taiwagura Shuzo
Signature Brands
Yuki no Matsushima/Taiwagura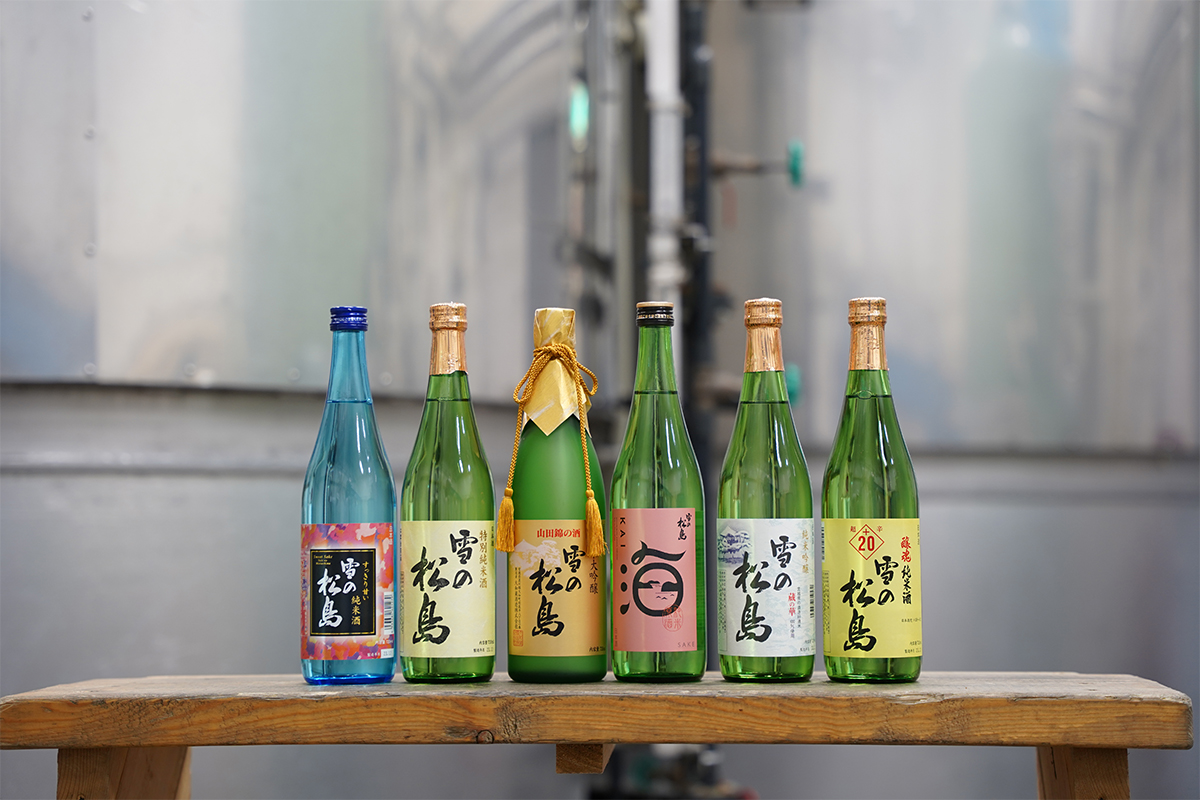 Blending the Newest Equipment and Traditional Techniques
Aiming to Make Even Better Junmai Saké

Taiwagura Shuzo is a young brewery established in 1996. At first, the company introduced state-of-the-art equipment and focused on mechanization. However, since 2007 after acquiring the signature saké brand "Yuki no Matsushima" from a liquidated company (Izumi Ward, Sendai City), the brewery has increased the number of processes emphasizing the human touch. That decision was made because at the time a fully-automatic koji-making machine was used but had difficulty reproducing the famous +20 "super dry" saké.

As a result of various analyzes, it was determined strong koji is indispensable for brewing "super dry" saké. For this reason, the brewery switched from the latest fully automatic koji making machine to a semi-automatic koji making machine that requires human intervention. As of now, a koji room exclusively for ginjo saké has been created, with operations done entirely by hand.

Masatoshi Sasaki, former master brewer who has been supporting the brewery since the beginning, said:

"After meticulously studying each step in the brewing process from start to finish, through repeated trial and error we determined the best balance of both manual labor and machinery. That is how saké should be made."
Continuing the Wishes of the Toji
"It was a big deal for us brewers to have a koji room where we can be involved in the koji process with our own hands. Of course, staying overnight and taking care of the koji is difficult. Without experiencing the manual labor method to make koji, and also things like the main fermenting mash, you cannot understand the basics and reasoning of saké brewing."
These are the words of Masa Sone, who became a new master brewer in March 2018. He entered the brewery in 2002 and studied saké brewing under Master Brewer Sasaki. In 2016, he passed the Nambu Toji Exam with top marks.
"I would like to take over what toji Sasaki has created and follow through with his ideas, I also want to work hard to maintain the taste and quality of our saké," said Sone.
As of 2018, Taiwagura Shuzo saké has been awarded a Gold Prize for the third consecutive year at the Annual Japan Saké Awards. Sone adds, "I want him to move beyond the pressure of being the new toji and work hard for us."
Products


Recommended Products
Yuki-no-Matsushima Junmai-DaiGinjo Premium

This saké brought rice grains polished to 40% from Yamada-Nishiki from Hyogo Prefecture. Elegantly aromatic, rich, and very pure. You'll feel pears on your nose, The gentle thickness with its fruity aroma will take you lingering finish after drinking.

Alcohol content:16% Alc./vol.
Rice-polishing ratio:40%
Rice type:Yamadanishiki

Yuki-no-Matsushima Tokubetsu Junmai Shu

Only the most highly qualified rice, specifically made for Saké, from Miyagi prefecture is used, and is brewed by low temperature fermentation in long term. This longer fermentation brought rich flavor of umami (taste of rice), a full gently mild taste with the saké aroma. It is versatile saké, pairs well with any dish, also recommended as warmed/heated saké.

Alcohol content:15% Alc./vol.
Rice-polishing ratio:60%
Rice type:Miyagirice

Yuki-no-Matsushima KuraNoHanaJunmaiGinjo

Fruity type Saké from Miyagi Prefecture, with shuzo kotekimai (literally, rice suitable for brewing saké) called "Kura-no-Hana", rice grains polished to 50%. It features mild Ginjo incense with soft sweetness and Acidity. Its sweetness does not stay, but has a clean finish. Beautifully well-balanced saké of the taste of rice (umami) and acidity. Various dishes would welcome this.

Alcohol content:15% Alc./vol.
Rice-polishing ratio:50%
Rice type:Kuranohana
Information


Brewery Information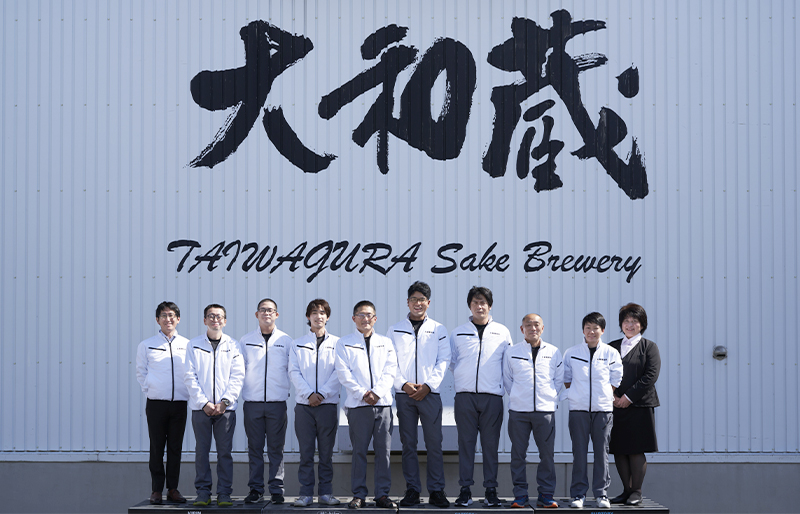 Taiwagura Saké Brewery Co.,Ltd.
8-1 Matsuzakadaira, Taiwa, Kurokawa-Gun, Miyagi, Japan 981-3408
Inquiry:
Tel : 022-345-6886
A brewery with a long history first established in Takahata Town, Yamagata Prefecture in 1798. The brewery moved to Taiwa Town, Kurokawa District, Miyagi Prefecture in 1996 and changed its name to "Taiwagura Shuzo" when it joined under the umbrella of liquor sales chain "Yamaya."
Brewery Tour

Available
(Reservation required. Please inquire about which days are open for visitors.)